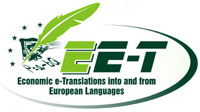 DISSEMINATION REPORT

Partners:
University of Pisa

Name of the person involved in the event:
Marco Cini, Monika Poettinger

Date of the event:
12 April 2012 - 12 April 2012

Type of Dissemination event:
Newsletters

Description of Dissemination Event:
An information on the EE-T programme has been published on pp. 41-42 of the Newsletter of SISE -- Società Italiana degli Storici dell'Economia. It contains a link to the database.

Target group:
Italian and European Economic Historians and Historians of Economic Thought

Number of people reached by event:
500

Held in:
Bari, Italy

Outcomes and Results:
Various requests of information were sent to the Project coordinator

Supporting Documents: