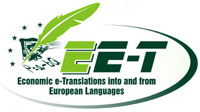 DISSEMINATION REPORT

Partners:
University of Pisa

Name of the person involved in the event:
Elena Carpi

Date of the event:
23 May 2012 - 26 May 2012

Type of Dissemination event:
Conference or Fair

Description of Dissemination Event:
Paper Presentation "La traducción italiana de las Cartas de Valentín de Foronda".

Target group:
Researchers on Spanish linguistic and theory of translation

Number of people reached by event:
300

Held in:
Forlì, Italy

Outcomes and Results:
The paper is an outcome of the Programme research (WP2) and contains reference to the Programme.
Potentially, information about the project among specialist of LSP and Literature implkies use of the portal materials in research and teaching.

Supporting Documents: