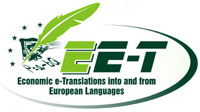 DISSEMINATION REPORT

Partners:
Middle East Technical University

Name of the person involved in the event:
All scholars of Middle East Technical University (METU)

Date of the event:
08 October 2012 - 08 October 2012

Type of Dissemination event:
Informative Mail (received)

Description of Dissemination Event:
On October the 8th morning, Dr. Cinla Akdere received a general announcement email from the Rectorship of Middle East Technical University (METU). The email has been sent to all scholars of METU. The mentioned general announcement was about the context of the EE-T Project as well as the existence of online portal in METU Library, where we have created a direct link to the portal. Via this email, all of the scholars were informed about the portal.

Target group:
All the scholars of METU

Number of people reached by event:
2000

Held in:
Ankara, Turkey

Outcomes and Results:
The EE-T project has been spread through a large variety, especially in our institution, METU. Above described dissemination activity is a good demonstration in this respect since all of the scholars of our institution were informed about the portal and the access they can reach via our library.
The general announcement email has been such a nice suprise for us since we have not asked the Rectorship to make such a dissemination activity to all of the scholars in METU. We were happy to read about our project and see how we have managed to successfuly disseminative the EE-T Project so that now we were receiving informative emails about the project which we have not asked anyone to write about.
Overall, outcomes of the Turkish teams' dissemination activities are going well. Further dissemination activites are periodically being discussed in our team.

Supporting Documents: