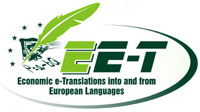 DISSEMINATION REPORT

Partners:
University of Pisa

Name of the person involved in the event:
Monica Lupetti, Marco Guidi, Elena Carpi

Date of the event:
29 November 2012 - 30 November 2012

Type of Dissemination event:
Article on website

Description of Dissemination Event:
News published on the website of the University of Pisa about the Conference on "Traduzione e autotraduzione. Un percorso attraverso i generi letterari" [Translation and Self-translation. A pathway through literary genres], University of Pisa and Scuola Normale Superiore, Pisa, 29-30 November 2012. The article mentions the E-ET project presentation made by Marco Guidi and Elena Carpi in one of the sessions of the Comference

Target group:
Stakeholders of the UNiversity of Pisa, Local and National Press

Number of people reached by event:
2000

Held in:
Pisa, Italy

Outcomes and Results:
Some online newspapers, including that of the national public broadcasting network RAI (Rainet.it) have disseminated this piece of news. Scholars interested in linguistics have taken notice of the project.

Supporting Documents: