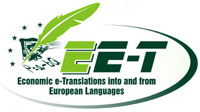 DISSEMINATION REPORT

Partners:
University of Pisa

Name of the person involved in the event:
Monica Lupetti, Marco Guidi, Elena Carpi

Date of the event:
29 November 2012 - 30 November 2012

Type of Dissemination event:
Conference or Fair

Description of Dissemination Event:
The Conference on "TRADUZIONE E AUTOTRADUZIONE. Un percorso attraverso i generi letterari" [Translation and Self-translation. A pathway through literary genres], Pisa, 29th-30th November 2012, organised by Scuola Normale Superiore and the Department of Philology, Linguistics and Literature of the University of Pisa, hosts a session entirely devoted to the E-ET Project. Marco Guidi and Elena Carpi present two research papers related to the Project. Brochures of the Project are being distributed during the Conference. Marco Guidi's presentation includes a general presentation of the Project. The Conference has been organised by Monica Lupetti, a member of the E-ET team of the University of Pisa

Target group:
Scholars and students of the University of Pisa

Number of people reached by event:
50

Held in:
Pisa, Italy

Outcomes and Results:
Drawing attention to the E-ET Project by scholars in humanities and students of the Master's Degree Programme in Translation of the University of Pisa and also by scholars of other Italian and European Universityes attending the Conference.

Supporting Documents: