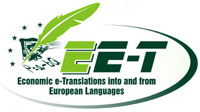 DISSEMINATION REPORT

Partners:
Universitatea din Bucuresti

Name of the person involved in the event:
Georgeta Ion

Date of the event:
26 October 2012 - 27 October 2012

Type of Dissemination event:
Conference or Fair

Description of Dissemination Event:
During the 11th European Conference on e-Learning ECEL-2012 hosted by the University of Groningen, in Holland, a representative of the Romanian team presented a work in progress paper and a presentation poster presenting the EE-T project, its objectives, goals and activities.

Target group:
European and international academical world, researcher, professors, education field stakeholders involved in educational process and e-learning.

Number of people reached by event:
200-250

Held in:
Groningen, Holland

Outcomes and Results:
The paper and the poster were well received by the judjing comitee. The conference was attended by many Europeans, but also by researchers from all over the world. The total attendance was around 200 to 250 people.

Supporting Documents: