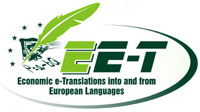 DISSEMINATION REPORT

Partners:
University of Barcelona

Name of the person involved in the event:
Estrella Trincado

Date of the event:
12 March 2013 - 12 March 2013

Type of Dissemination event:
Informative Mailing

Description of Dissemination Event:
Mailing to the membership of the academic list REDIRIS.

Target group:
Academics interested in the History of Economic Thought in Spain

Number of people reached by event:
200

Held in:
Madrid, Spain

Outcomes and Results:
A thorough information of the EET Project and its preliminar results reached the people subscribed to the list. The mailing included an invitation to all colleagues to take part in the EET Project throuf either of these three ways/ By making contributions to the database; by writing an essay to be included in the research part of the Project; or by making their departments and institutions of research and work associated partners of the Project.

Supporting Documents: