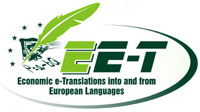 DISSEMINATION REPORT

Partners:
University of Barcelona

Name of the person involved in the event:
Javier San Julian

Date of the event:
08 March 2013 - 08 March 2013

Type of Dissemination event:
Informative Mailing

Description of Dissemination Event:
A series of mailings to selected colleagues specialists in the history of Economic Ideas showing the developement of the EET Project and inviting them to callaborate by their departments becoming associated partners.

Target group:
University professors of History of Economic Thought

Number of people reached by event:
6

Held in:
Barcelona, Spain

Outcomes and Results:
Up to now three answers were collected. Of these, the Department of Economic History and Institutions of the Complutense University of Madrid showed lots of interest to become associated partners, and the Department of Applied Economics of the University of Granada is going to study the case.

Supporting Documents: