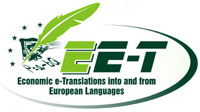 DISSEMINATION REPORT

Partners:
University of Barcelona

Name of the person involved in the event:
Alfonso Herranz

Date of the event:
27 February 2013 - 27 February 2013

Type of Dissemination event:
Lecture

Description of Dissemination Event:
Presentation of the Project Portal to students of the last year of the Economics Degree at the University of Barcelona.

Target group:
Students of Economics in their last year.

Number of people reached by event:
35

Held in:
Barcelona, Spain

Outcomes and Results:
Some students became attracted by the interactivity possibilities of the portal to be further developed. As far as it is possible, some reminds of the availability of the database will be made.

Supporting Documents: