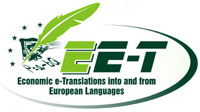 DISSEMINATION REPORT

Partners:
University of Barcelona

Name of the person involved in the event:
Marc Prat, Javier San Julian

Date of the event:
09 January 2013 - 25 March 2013

Type of Dissemination event:
Interviews

Description of Dissemination Event:
A series of interviews and mail exchanges with the head of the library of the Faculty of Economics of the University of Barcelona in order to make dissemination of the EET Project using the resources of the library.

Target group:
Head and personal of the Library of the Faculty of Economics of the UB, with the aim of reaching all the academic community of the Faculty.

Number of people reached by event:
1

Held in:
Barcelona, Spain

Outcomes and Results:
Some reticences were found, as, according to an enquiry made by the cataloguing team of the Library, the EET Project portal and database are not included in some libraries' catalogues pioneering inclusion of electronic resources. Follow-up actions are therefore required in order to search collaboration.

Supporting Documents: