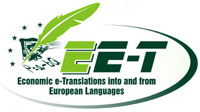 DISSEMINATION REPORT

Partners:
Pixel

Name of the person involved in the event:
Andrea Peraldo

Date of the event:
11 February 2013

Type of Dissemination event:
Training Seminar

Description of Dissemination Event:
Pixel, in the framework of the European Project Manager project, financed by the "PLM – People in the Labour Market" Action of the Lifelong Learning - Leonardo Da Vinci Subprogramme, has given the opportunity to 21 graduates to experience an internship abroad, supporting European Project Managers that operating in public and private institutions working in the field of European cooperation. A preparatory course has been organized for the grant winners. On the first day of the course, Andrea Peraldo fully described all the activities carried out by Pixel, with a specific focus on the EE-T project.

Target group:
Post-graduate students

Number of people reached by event:
21

Held in:
Florence, Italy

Outcomes and Results:
Because of their intention to become project managers, course participants expressed their intention to receive further information about the project and its future steps

Supporting Documents: