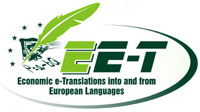 DISSEMINATION REPORT

Partners:
Middle East Technical University

Name of the person involved in the event:
Ahmet INSEL

Date of the event:
14 March 2013 - 14 March 2013

Type of Dissemination event:
Poster

Description of Dissemination Event:
2 posters send to Ahmet INSEL, who is an economics professor at Galatasaray University.

Target group:
Undergraduate and graduate students in Galatasaray University

Number of people reached by event:
500

Held in:
Istanbul, Turkey

Outcomes and Results:
Students at Galatasaray University-department of Economics are informed about EE-T Project by way of posters. We expect the student and academicians in Galatasaray University will use the project portal in an effective way and involve in the discussion forums.

Supporting Documents: