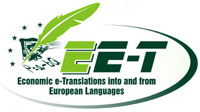 DISSEMINATION REPORT

Partners:
University of Barcelona

Name of the person involved in the event:
Marc Prat, Sergio Espuelas, Alfonso Herranz, Javier San Julian

Date of the event:
21 March 2013 - 21 March 2013

Type of Dissemination event:
Insertion of EET in the catalogue of the library

Description of Dissemination Event:
The Library of the University of Barcelona has included today in its catalogues the website of the EET Project so that every member of the university community has access to it.

Target group:
Students, researchers and professors of the University of Barcelona

Number of people reached by event:
Unknown

Held in:
Barcelona, Spain

Outcomes and Results:
We expect the inclusion of the EET webpage oficially into the catalogue of the University Library might get many people aware of the project and its outcomes. Informative brochures will be distributed in the Library of the Faculty of Economics.

Supporting Documents: