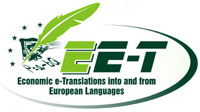 DISSEMINATION REPORT

Partners:
University of Pisa

Name of the person involved in the event:
Final Conference of the Project, University of Pisa, 12-14 September 2013

Date of the event:
12 September 2013 - 14 September 2013

Type of Dissemination event:
Conference or Fair

Description of Dissemination Event:
Public and free Conference to present the results of the Project. More than 70 papers submitted, 60 papers presented, almost 100 researchers involved. The conference info is on the website: http://eetconference.wordpress.com/

Target group:
Researchers of the University of Pisa, World researchers, Students

Number of people reached by event:
5000

Held in:
Pisa, Italy

Outcomes and Results:
The community of researchers has been informed about the results of the project.

Supporting Documents: