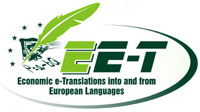 DISSEMINATION REPORT

Partners:
University of Pisa

Name of the person involved in the event:
Marco Guidi

Date of the event:
14 January 2013

Type of Dissemination event:
Twitter account

Description of Dissemination Event:
Opening of a Twitter account of the EE-T project. The account has been used since then to announce EE-T initiatives and to tweet events. Particularly, the EE-T partner meeting held in Paris on 21st-22nd January 2013 has been entirely tweeded.

Target group:
People using social networks

Number of people reached by event:
200

Held in:
Pisa

Outcomes and Results:
A number of followers is being added to the account, although so far Twitter seems to be less attractive than Facebook especially for students

Supporting Documents: