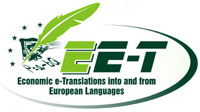 DISSEMINATION REPORT

Partners:
Pixel

Name of the person involved in the event:
Elisabetta Delle Donne

Date of the event:
11 October 2011 - 15 October 2011

Type of Dissemination event:
Training Seminar

Description of Dissemination Event:
On the occasion of the 28th Edition of the European Planning in Service Training course, Elisabetta Delle Donne presented all the Pixel activities, with reference to the transnational projects. In particular way, Elisabetta Delle Donne described the EE-T Project, underlining all the activities and examining, through an interactive perspective, if there was the possibility for a reciprocally favourable possibility to collaborate.

Target group:
Universities, Schools, Training Institutions, Public bodies

Number of people reached by event:
15

Held in:
Florence, Italy

Outcomes and Results:
The project activities obtained a positive feedback by the participants to the course who asked for a continuous updating of future achievements.

Supporting Documents: