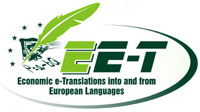 DISSEMINATION REPORT

Partners:
University of Barcelona

Name of the person involved in the event:
Javier San Julián

Date of the event:
16 May 2013 - 18 May 2013

Type of Dissemination event:
Transnational Meetings

Description of Dissemination Event:
Participation in the ESHET Conference in which two sessions were devoted to the EET Project. Discussion with some colleagues on the objectives and the outputs of the project.

Target group:
Researchers in History of Economic Ideas

Number of people reached by event:
10

Held in:
Kingston, United Kingdom

Outcomes and Results:
Discussion with colleagues on the project. Some ideas on improvements the portal might achieve, how to apply it to teaching and research, etc.

Supporting Documents: