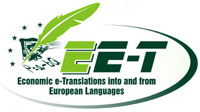 DISSEMINATION REPORT

Partners:
University of Lyon 2 (Ass. Partner)

Name of the person involved in the event:
José Carlos de Hoyos (University Lyon 2, Associated Partner)

Date of the event:
29 October 2013 - 31 October 2013

Type of Dissemination event:
Transnational Meetings

Description of Dissemination Event:
Presentation of the EET Project in the 5th International Conference on Language and Sciences, with the topic "Language of Sciences and Historiography". The title of the conference given by Profs. De Hoyos and Villar was "Terminology and the History of Thought: The case of Economics (EE-T Project) and other Projects of CRTT".

Target group:
Scholars specialists in the scientific uses of language

Number of people reached by event:
50

Held in:
Coruña, Spain

Outcomes and Results:
Presentation of the EET Project to linguists. Some comments from colleagues and interest in the contents and application of materials at the Project Portal

Supporting Documents: