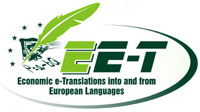 DISSEMINATION REPORT

Partners:
Paris 1

Name of the person involved in the event:
Nathalie Sigot

Date of the event:
21 March 2013 - 21 March 2013

Type of Dissemination event:
Conference or Fair

Description of Dissemination Event:
Presentation of a research paper dealing with the French translations of Bentham's "Defence of Usury". This was held in the Framework of a seminar organized by PHARE (University of Paris I) on "Philosophy and Economics". Two e-mails were sent before (09 March and 11 March) to inform about this conference.

Target group:
Researchers.

Number of people reached by event:
15

Held in:
Paris (France)

Supporting Documents: