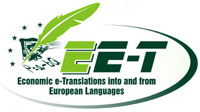 DISSEMINATION REPORT

Partners:
Universidade de Lisboa

Name of the person involved in the event:
Jose Luis Cardoso

Date of the event:
09 December 2011 - 10 December 2011

Type of Dissemination event:
Transnational Meetings

Description of Dissemination Event:
Iberian meeting on the history of economic thought Presentation of the main objectives and expected outcomes of the project. This presentation took place at the General Assembly of the Iberian Association of Historians of Economic Thought.

Target group:
Historians of economic thought from Portugal and Spain, belonging to departments of history and economics from both countries and also from Latin American countries

Number of people reached by event:
75

Held in:
Zaragoza, Spain

Outcomes and Results:
Apart from the outline presented, the attendants of the meeting have presented suggestions as for authors to be integrated in the database.

Distribution to the participants of the attached handout, which has been used throughout the period of the project as a means to introduce the presentation of the aims and scope of EE-T.

Supporting Documents: