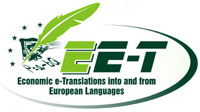 DISSEMINATION REPORT

Partners:
Pixel

Name of the person involved in the event:
Elisabetta Delle Donne

Date of the event:
12 December 2011

Type of Dissemination event:
Transnational Meetings

Description of Dissemination Event:
Pixel is involved in several European projects, like "Play the Learning Game", which investigates the potential of a change in perspective towards videogames and multimedia to be used in order to bridge the communication gap between teachers and learners. During the project meeting, Elisabetta Delle Donne realised a complete description of all the activities, with a specific reference to the EE-T project, whose illustrative brochure was distributed to the participants. The activities of the project were fully explained and it was examined if there was the possibility for further collaboration.

Target group:
Public Authorities, Trade Unions, Universities, Training agencies, Schools

Number of people reached by event:
19

Held in:
Florence, Italy

Outcomes and Results:
The presentation obtained a positive feedback by the participants who asked to be kept informed.


Supporting Documents: