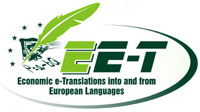 DISSEMINATION REPORT

Partners:
Pixel

Name of the person involved in the event:
Federico Fragasso, Elisabetta Delle Donne

Date of the event:
01 March 2012

Type of Dissemination event:
Transnational Meetings

Description of Dissemination Event:
The Web2LLP project aims to create a framework for the effective exploitation of results of LLP projects that is empowered by social networking technologies as part of coherent, attractive and sustainable web strategies in a supportive environment for running LLP projects The first meeting of the Web2LLP project was held at the site of the University of Luxembourg in Luxembourg city on 1 - 2 March 2012. The partnership of the project was composed by education and training insititutions based in 6 different European countries. On this occasion brochures of the EE-T project were distributed.

Target group:
Universities, Research Centres, Educational Institutions, Training Agencies

Number of people reached by event:
13

Held in:
Luxembourg, Luxembourg

Outcomes and Results:
European partners showed a deep interest in Pixel activities and in the EE-T project. For this reason they asked to be kept informed.

Supporting Documents: