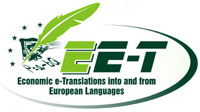 DISSEMINATION REPORT

Partners:
University of Barcelona

Name of the person involved in the event:
Sergio Espuelas, Alfonso Herranz, Marc Prat, Javier San Julián

Date of the event:
29 February 2012 - 15 March 2012

Type of Dissemination event:
Conference or Fair

Description of Dissemination Event:
Submission and acceptance of the paper:"EE-T Project: Economics e-Translations into and from European Languages. Contributions from the Spanish partnership" for the X Meeting for Didactics in Economic History, organised by the Spanish Association of Economic History, which will take place at the University of Salamanca on 21-22 June 2012.

Target group:
Economic historians, mainly Spanish.

Number of people reached by event:
60

Held in:
Salamanca, Spain

Outcomes and Results:
Difussion of the EE-T platform and annex tools in economic history teaching in universities in Spain.

Supporting Documents: