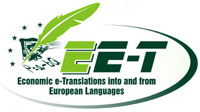 DISSEMINATION REPORT

Partners:
University of Barcelona

Name of the person involved in the event:
Javier San Julián

Date of the event:
02 April 2012 - 02 April 2012

Type of Dissemination event:
Informative Mailing

Description of Dissemination Event:
Mailing to the responsibles for the area of History of Economic Thought in the Department of Economic Analysis of the Uiversity of Valencia, Profs. Almenar, Llombart and Cervera. The objetives and main features of the EE-T project were explained, and the idea of this department becoming an Associated Partner of the EE-T Project was suggested, as well as a particular collaboration in the WP2 - Research Activity, as some of these professors have already worked in the area of economic ideas diffusion.

Target group:
Economic historians and history of economic thought especialists of the University of Valencia (Spain)

Number of people reached by event:
15

Held in:
Barcelona, Spain

Outcomes and Results:
A meeting in June 2012 was scheduled in order to explore associated partnership and academic collaboration.

Supporting Documents: