BASE TEXT
Author, original title and year of 1st edn
Bastiat, Frédéric
Harmonies économiques
Paris : Guillaumin et C., 1850
Base edn and year
Bastiat, Frédéric
Harmonies économiques
Paris : Guillaumin et Cie., 1851
2. éd., augmentée des manuscrits laissés par l'auteur, publiée par la Société des Amis de Bastiat,
TRANSLATION INFO
type of original text
Book
type of translated text
Chapter in a book
image of the document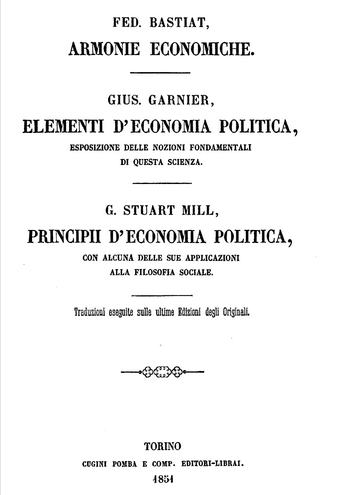 BIBLIOGRAPHIC INFORMATION FOR DOCUMENT
Surname and Name
of Author (in the original language)
Bastiat, Frédéric
Surname and Name
of Author (in the spelling of translation)
Bastiat, Fed.
Title of the document
Armonie economiche
Title of the book/collection
Biblioteca dell'Economista, Prima Serie
Name and surname of the editor
Ferrara, Francesco
Publisher
Cugini Pomba e Comp. Editori-Librai
Initial and final page number
V-CXXLV, 1-207, 1167-1329 p.
TRANSLATION ADDITIONAL INFORMATION
Text type
Translation complete text
Editor's name(s)
Ferrara, Francesco
Editorial apparatus
Introduction of the editor (Ragguaglio biografico e critico sugli autori, le cui opere sono contenute nel presente volume, del Prof. Fr. Ferrara pp. V-CXXLV)
Bibliography
Index
Additional material (Questione di priorita' tra Federico Bastiat e LL. G. Carey. (p. CXXVI - CXLIII)

I. Lettera di Mr. Carey
II. Nota di Bastiat
III. Lettera del Sig. Clement
IV. Nota del Sig. Garnier
V. Nota di M. Carey
VI. Lettera del Sig. Paillottet)
OTHER USEFUL INFORMATION
National collection call mark
Universita' di Pisa, Biblioteca di Economia
ECO BP/B 137