BASE TEXT
Author, original title and year of 1st edn
Say, Jean-Baptiste
Catéchisme d'économie politique ou instruction familière qui montre de quelle façon les richesses sont produites, distribuées et consommées dans la société (...)
Paris, De l´imprimerie de Crapelet 1815
Base edn and year
Say, Jean-Baptiste.
Catéchisme d'économie politique... 2e édition, entièrement refondue et augmentée de notes,
Paris : Aimé-André, 1826. 3e éd.
TRANSLATION INFO
translation into
Portuguese
type of original text
Book
type of translated text
Book
image of the document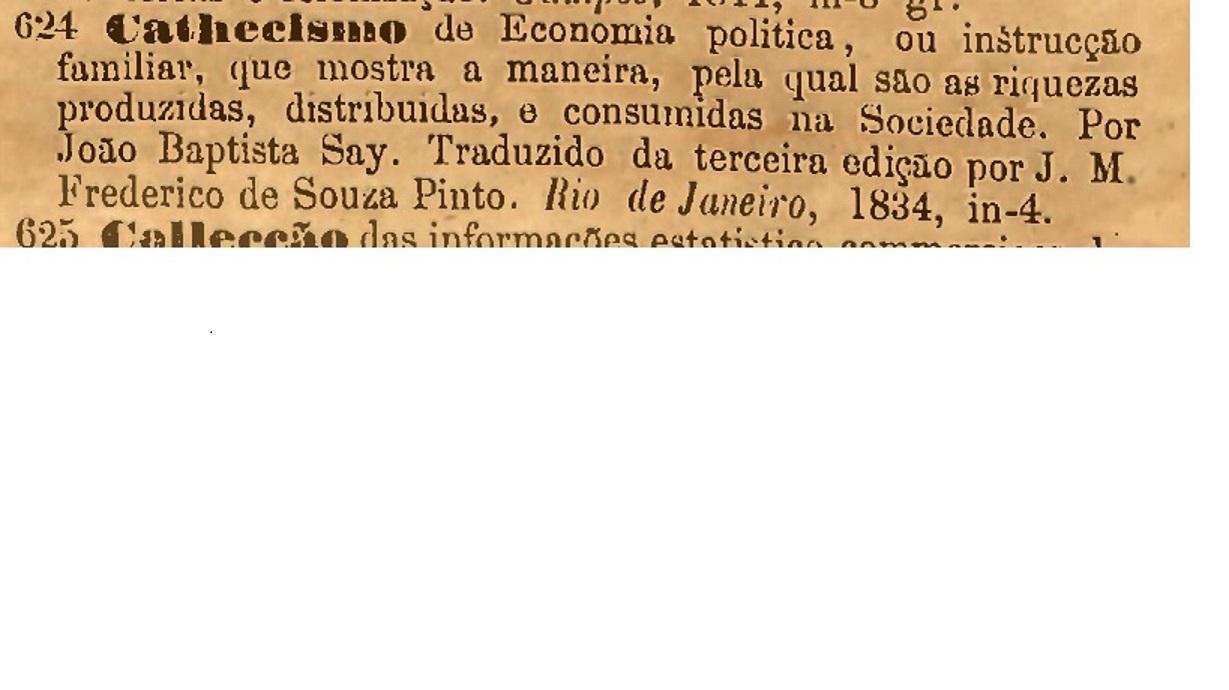 BIBLIOGRAPHIC INFORMATION FOR DOCUMENT
Surname and Name
of Author (in the original language)
Say, Jean-Baptiste
Surname and Name
of Author (in the spelling of translation)
Say, João Baptista
Title
Cathecismo de Economia politica, ou instrucção familiar que mostra a maneira, pela quai são as riquezas produzidas, distribuídas, e consumidas na Sociedade. Traduzido da terceira edição por J. M
Frederico de Souza Pinto.
Number of vols/parts
in-4
TRANSLATION ADDITIONAL INFORMATION
Translator's name(s)
Pinto, J. M. Frederico de Souza
OTHER USEFUL INFORMATION
Basic secondary literature on this text
CATALOGO DOS LIVROS DA BIBLIOTHECA FLUMINENSE, RIO DE JANEIRO,
TYPOGRAPHIA THEVENET & C., 1866, p. 49.