BASE TEXT
Author, original title and year of 1st edn
The Public Debt, its influence and its management considered in a different point of view from Sir Henry Parnell, in his work on Financial Reform. By M. B. [i.e. Count Magnus Fredrik Ferdinand Björnstjerna.]
London : James Ridgway, 1831
TRANSLATION INFO
original language
English
translation into
Portuguese
type of original text
Book
type of translated text
Book
image of the document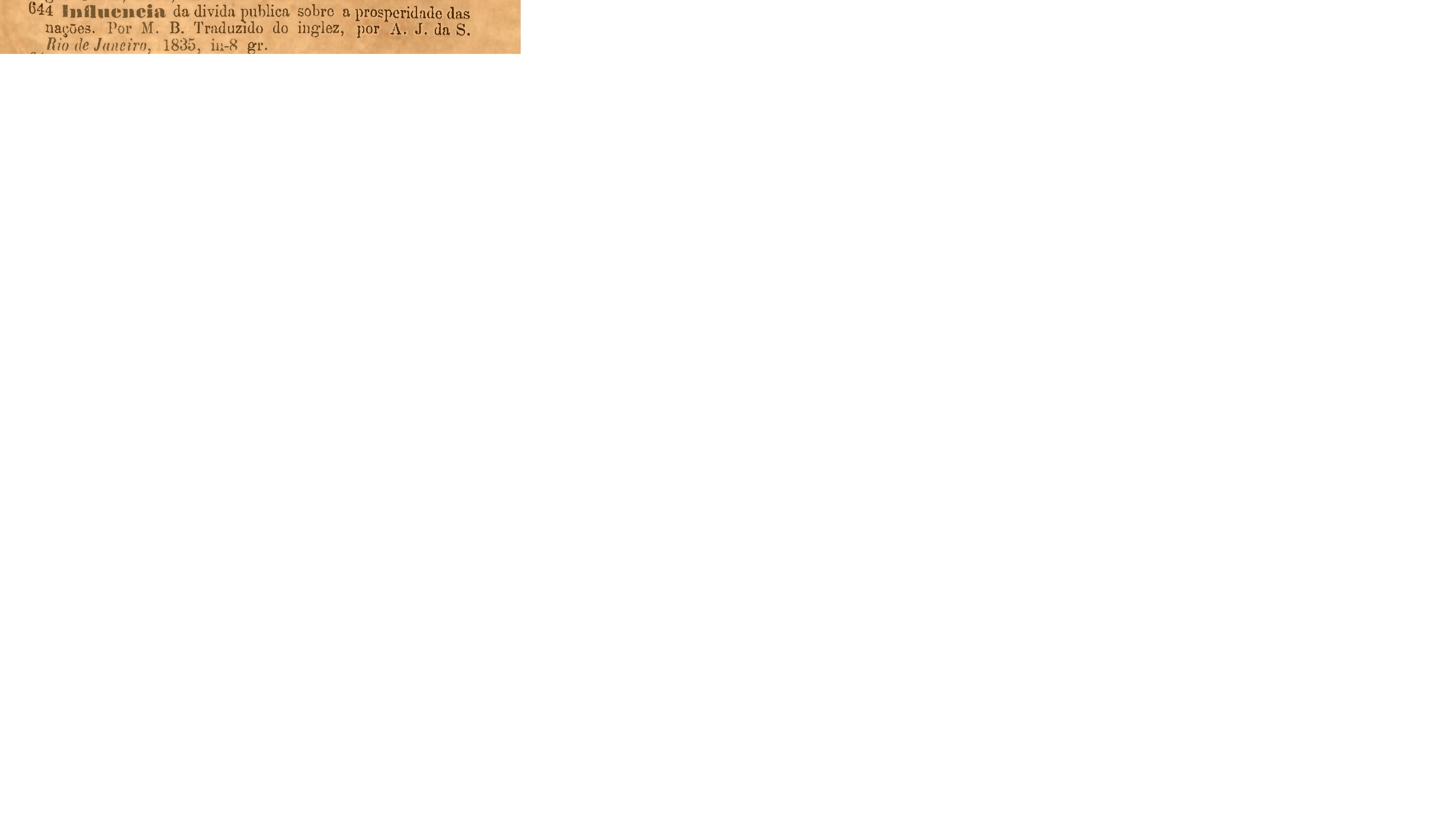 BIBLIOGRAPHIC INFORMATION FOR DOCUMENT
Surname and Name
of Author (in the original language)
Björnstjerna, Magnus Fredrik Ferdinand
Surname and Name
of Author (in the spelling of translation)
M. B.
Title
Influencia da divida publica sobre a prosperidade das nações. Por M. B. Traduzido do inglez, por A. J. da S.
Number of vols/parts
in-8
TRANSLATION ADDITIONAL INFORMATION
Translator's name(s)
S[ilva], A[ntônio]. J[osé]. da
OTHER USEFUL INFORMATION
Basic secondary literature on this text
Source of Info: CATALOGO DOS LIVROS DA BIBLIOTHECA FLUMINENSE, RIO DE JANEIRO, TYPOGRAPHIA THEVENET & C., 1866, p. 50

There is a Swedish version that was published later than the English edition: Engelska statsskulden, dess inflytande och förvattning, betraktade ur en olika synpunkt med Sir Henry Parnell, i hans arbete om finansreform, af M. B. [i.e. Count Magnus Fredrik Ferdinand Björnstjerna.] Öfversättning [by Karl Vilhelm Lilljecrona, of "The Public Debt, its influence and its management"]. Med ett företal om statsskulds-systemets allmänna grunder af C. A. A. [i.e. Carl Adolf Agardh.]
Stockholm, 1833.