BASE TEXT
Author, original title and year of 1st edn
Rossi, Pellegrino
Cours d'economie politique
Bruxelles : Société belge de librairie 1840-1854 (4 vol.)
TRANSLATION INFO
type of original text
Book
type of translated text
Chapter in a book
image of the document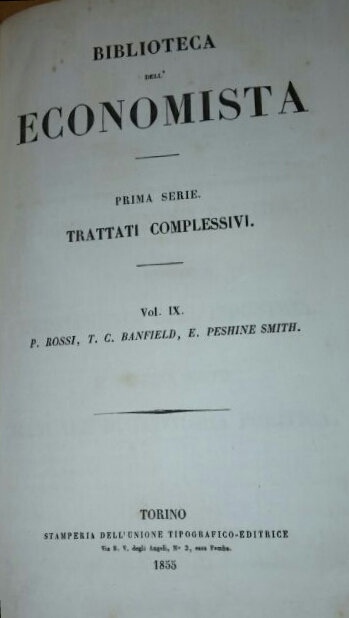 BIBLIOGRAPHIC INFORMATION FOR DOCUMENT
Surname and Name
of Author (in the original language)
Rossi, Pellegrino
Surname and Name
of Author (in the spelling of translation)
Rossi, P.
Title of the document
Corso d'economia politica
Title of the book/collection
Biblioteca dell'economista. Prima serie. Trattati complessivi
Name and surname of the editor
Ferrara, Francesco
Publisher
Stamperia dell'unione tipografico-editrice
Initial and final page number
3-701
TRANSLATION ADDITIONAL INFORMATION
Text type
Translated selection
Composition of text
I. Del metodo in economia politica. Della natura e definizione del lavoro.
II. Osservazioni sul diritto civile francese considerato nei suoi rapporti collo stato economico della società.
III. Introduzione alla storia delle dottrine economiche.
Translator's name(s)
Ferrara, Francesco
Editorial apparatus
Preface of translator(s)
Introduction of the editor (Ragguaglio biografico e critico degli autori, le cui opere sono contenute in questo volume.)
OTHER USEFUL INFORMATION
National collection call mark
Biblioteca di economia, Università di Pisa
BP/B 134
Original e-publication (URL)