BASE TEXT
Author, original title and year of 1st edn
Mill, John Stuart
Principles of Political Economy : with some of their Applications to Social Philosophy
London : John W. Parker, 1848
Base edn and year
Mill, John Stuart
Principles of Political Economy : with some of their Applications to Social Philosophy
London : John W. Parker, 1852
3. ed.
TRANSLATION INFO
original language
English
type of original text
Book
type of translated text
Book
image of the document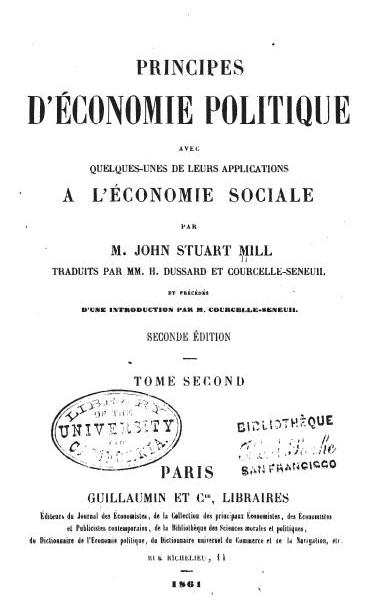 BIBLIOGRAPHIC INFORMATION FOR DOCUMENT
Surname and Name
of Author (in the original language)
Mill, John Stuart
Title
Principes d'économie politique
Number of vols/parts
2 vol.
TRANSLATION ADDITIONAL INFORMATION
Text type
Translation complete text
Editor's name(s)
Courcelle-Seneuil, P.
Translator's name(s)
Dussard, H.
Courcelle-Seneuil, P.
Editorial apparatus
Introduction of the editor ()
Additional material (Note (vol.1; one page))
OTHER USEFUL INFORMATION