BASE TEXT
Author, original title and year of 1st edn
Bailey, Samuel
A Critical Dissertation on the Nature, Measures, and Causes of Value
London : R. Hunter,St.Paul's Churchyard, 1825.
TRANSLATION INFO
original language
English
type of original text
Book
type of translated text
Chapter in a book
image of the document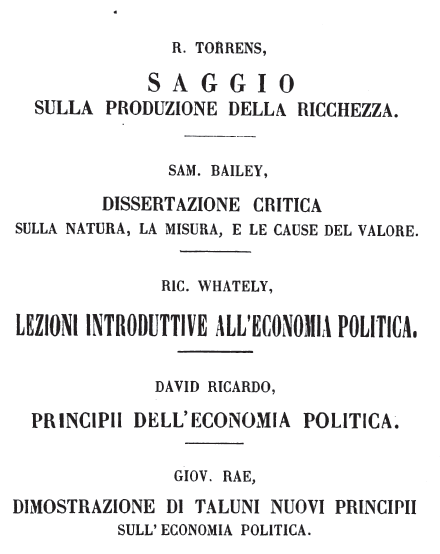 BIBLIOGRAPHIC INFORMATION FOR DOCUMENT
Surname and Name
of Author (in the original language)
Bailey, Samuel
Surname and Name
of Author (in the spelling of translation)
Sam. Bailey
Title of the document
Dissertazione critica sulla natura, la misura e le cause del valore
Title of the book/collection
Biblioteca dell'Economista, Prima Serie
Name and surname of the editor
Francesco Ferrara
Publisher
Stamperia dell'unione tipografico-editrice
Initial and final page number
V-LXXV, 137-220 p.
TRANSLATION ADDITIONAL INFORMATION
Text type
Translation complete text
Editorial apparatus
Preface of editor(s)
Introduction of the editor (Introduction of the editor (Introduzione del Prof. Francesco Ferrara))
Editor's or translator's footnotes (215-220 p.)
Bibliography
Index
OTHER USEFUL INFORMATION
National collection call mark
Universita' di Pisa, Biblioteca di Economia: BP/B 136